Connecting with Crete
11 days, 3-centre.
On this leisurely, 11-day, 3-centre tour, take time to appreciate what makes this ruggedly-beautiful island so special as, experiencing the uniqueness of both East and West, you are truly able to connect with Crete.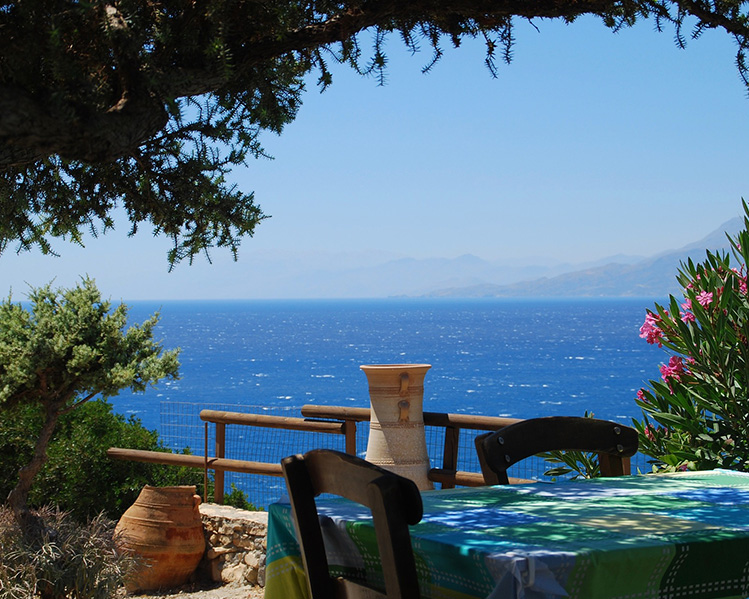 ---
11 days, 3-centre.
Day 1: After your flight from the UK, meet your Tour Manager and transfer to the 4* Miramare Hotel and Spa at Aghios Nikolaos for 4 Nights' Dinner, Bed & Breakfast. This comfortable hotel has superb views and is near several small, pleasant beaches.
Day 2: AROUND ELOUNDA: Ancient frescoes glowing jewel-bright at Kritsa. A stroll on the hauntingly-beautiful island of Spinalonga, immortalised by Victoria Hislop, to bring its history vividly to life. Especially the inspiring courage of its last inhabitants. Relaxation in an unspoilt seaside village.
Day 3: TREASURES OF EASTERN CRETE: The sapphire and turquoise of the Cretan Sea as we head along the North coast, pausing at the tranquil harbour-town of Siteia, with its pleasant waterfront and small, interesting Archaeological Museum. Intriguing Toplou Monastery with its outstanding collection of icons. The gorgeous, sheltered palm beach at Vai.
Day 4: THE LASITHI PLATEAU. One of the most beautiful and fertile areas of Crete, its fields and orchards shielded by mountains. The serenity of tiny monasteries. The old ways of working the land blending seamlessly with the new. An ideal way to round off your travels in Eastern Crete.
Day 5: On our transfer West, we enjoy free time in Heraklion: excellent Archaeological Museum, beautifully-restored Venetian waterfront: the 4000-year-old ruined Palace of Knossos. We also visit Agia Lake, a haven for many species of native and migratory birds, before continuing through citrus-groves and historic villages to the Plateau of Omalos in the White Mountains; the head of the Samaria Gorge. Here, we check into the delightful family-owned Neos Omalos Hotel, for two nights' Dinner, Bed and Breakfast. Lunch is included today.
Day 6: Sougia: an attractive, laid-back village on the South Coast. As always, our emphasis is on leisurely travel, with plenty of time to appreciate the natural beauty of Crete. Experienced walkers may prefer to walk the Samaria Gorge and travel by boat to Sougia to rejoin the coach. Please Note: If you intend to walk the Gorge, sturdy footwear is essential
Day 7: Leaving Omalos, we transfer to Rethymno, pausing on our way to visit the charming city of Chania: Venetian harbour, excellent Maritime and Archaeological Museums - and the Akrotiri Peninsula: fabulous views, Aghia Triada Monastery dreaming amidst its vineyards, and Stavros Beach, the setting for the iconic dance scene in "Zorba the Greek". Our base in Rethymno, for 4 nights' Dinner, Bed and Breakfast, the 4* Theartemis Palace Hotel, is near a sandy beach and an easy stroll from the Old Town.
Day 8: A leisurely start today, exploring the Cretan countryside: gorgeous scenery and sleepy villages: Rethymno's Venetian harbour and intriguing Old Town: an early evening drink by the Cretan Sea at sunset.
Day 9: Argiroupolis: Once the powerful city-state of Lappa, now a village of luxuriant greenery and spectacular waterfalls, renowned for its excellent local cuisine.
Day 10: Some of the loveliest coastal and mountain scenery of Crete: the cool, clear fountains of Spili: serene Preveli Monastery, rich in history: the idyllic beach of Plakias.
Day 11: Transfer to Heraklion Airport for your homeward flight.
Your Holiday Includes
Direct return flights from your preferred UK airport. To discuss which flights best suit you, please call us on 0800 011 3927 or 07974 022640 at any time. 20/23 kgs' hold-luggage
4 Nights' Dinner, Bed and Breakfast, 4* Miramare Hotel, Aghios Nikolaos.
2 Nights' Dinner, Bed and Breakfast, Neos Omalos Hotel, Omalos
4 Nights' Dinner, Bed and Breakfast, 4* Theartemis Palace Hotel, Rethymno.
Transfers and full programme of included excursions as described.
All taxes and duties, except Overnight Tax, 3 euros per room per night, payable to the hotels.
Accompanied throughout on Crete by your experienced Living Crete Tour Manager, on hand at all times to help with the smooth running of your holiday.
AVAILABLE DATES AND PRICES per person, based on two guests sharing Double/Twin Room.
2020
September 16th: £ 1,649. Supplement for Double Room, Single Use £250
2021
September 8th: £1,699. Supplement for Double Room, Single Use £250