WHY CRETE?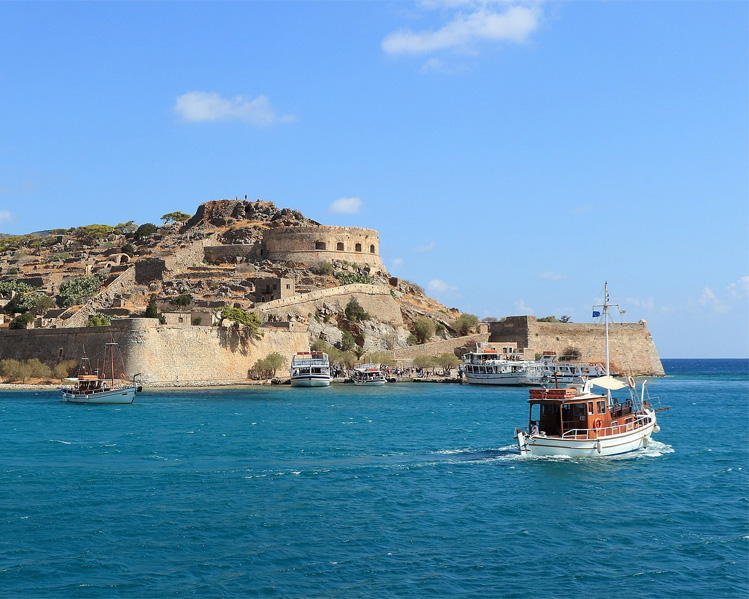 Crete has a dramatic beauty rarely found elsewhere. Sandy beaches fringe clear, blue seas. Snow-capped mountains sweep down to vineyards, olive-groves and sheltered plains – a treasure-trove of gorgeous vegetables and fruit.
Crete's mild Mediterranean climate makes exploring a delight. The next curve in the country road you travel may reveal a sleepy village, a field of poppies or a Minoan palace. Whilst the island's ancient history has established it as a cradle of European civilisation, the story of modern Crete is equally fascinating.
We invite you to experience the essence of this ruggedly-beautiful island. Living Crete offers a range of fully-escorted tours. We design them with care, keeping the emphasis on leisurely, comfortable travel through scenery of breath-taking beauty.
Savour the mouth-watering flavours of delicious, home-grown Cretan food - drink the fabulous wines of the country whilst listening to the music of the ocean.
Let Living Crete transport you back into the heart of the Minoan world, whose mysteries will delight your imagination, on this island where the people's genuine warmth and hospitality echo the gentle, relaxing warmth of the climate.
---
WHY US?
What can we offer you?
Peace of Mind: Your Financial Security
Living Crete is a British company, based in South Wales, and holds an ATOL (Air Travel Organiser's Licence). This means that all monies paid by you for our flight-inclusive holidays are ATOL-protected by the British Civil Aviation Authority – an extremely valuable safeguard at any time.
Sensible Pricing: Our Living Crete Guarantee
We work out the costings of all our Crete tours with the utmost attention to detail. The prices shown, valid at the time of publication, may change, e.g. because of a change in flight prices (which can go up, or down). We will confirm your final holiday price when you book. You can then relax in the knowledge that there will be no last-minute surcharges or supplements.
Small Groups
Our groups are usually limited to a maximum of 25 participants. We can, however, accommodate larger groups if specifically requested. Our average group size is 14.
Private Tours
We'd love to create a personalised tour especially for your party, be it large or small. Do feel free to call us at any time to talk through your requirements. We will work closely with you to design your ideal holiday.
Solo Travellers
Whilst we do not have tours specifically for solo travellers (unless a group, large or small, requests this), quite a few of our clients, including many who have travelled with us several times over the years, do travel solo – or travel with friends but appreciate the added comfort and convenience of their own room – and enjoy the relaxed, friendly ambience of our tours. When we do have to apply a Single Room Supplement, we keep it as low as possible.
Personalised Straightforward Booking
Phone or email us at any time, without obligation, to discuss the holiday you're interested in – even if, at the moment, you just want to gather information. We'll talk it through with you, discuss what tour and flight arrangements best suit you, and take care of every aspect of your booking.
Chosen Suppliers
To make your stay on Crete safe, comfortable and relaxed, we work only with suppliers (e.g. hotels, coach companies, specialist local guides) we know and trust. We can vouch for their professionalism from first-hand experience over the years, and select them for the efficient, welcoming service we can rely on them to provide.
Someone There For You
To ensure the highest standards of customer care, your experienced, friendly Living Crete Tour Manager will accompany you throughout your stay, available at all times to help with the smooth running of your holiday.